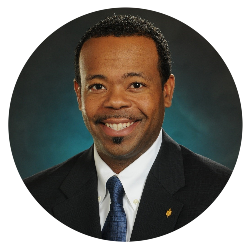 Dr. Justin Goldston is a leading expert on blockchain technology and its inclusion in business enterprises. As a certified management consultant, he has spent most of his career in industry working with leaders of organizations implementing enterprise applications around the world. With his love for technology and his passion to make a positive impact on social change, Dr. Goldston has made it his mission to bring technological knowledge and capabilities to the people.
Along with deep domain experience, Dr. Goldston is a member of The Blockchain Council, The World Blockchain Association, The Government Blockchain Association, and is currently studying in one of the first Blockchain programs in the country at Cornell University.
With a belief that it was his time to pay it forward, Dr. Goldston entered into academia teaching both undergraduate and graduate programs at Aurora University, North Carolina Wesleyan College, and Southern New Hampshire University, as well as being a guest lecturer at Rutgers University and Morgan State University for their MBA capstone courses. Dr. Goldston's most notable academic accolade was when he was selected to evaluate one of the first doctoral programs in Quality Systems Management in the world for program approval for the Massachusetts Department of Higher Education. Goldston has shared his research on various technologies at both academic and professional conferences around the world and is the author of the book Critical Success Factors in ERP implementations in Manufacturing Environments.